Concrete Pool Deck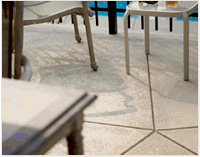 RECOMMENDED PRODUCT AND HOW-TO:
Use H&C® Resurfacers and Color Pack System (Instant or Heavy Traffic) to any pool deck for a new look. This cementitious system is designed to add texture to new or existing concrete. Once applied it keeps feet cooler, and adds a bit of skid resistance.
Product Supplies
Stiff broom
Garden hose with pressure washer nozzle
1/2″ variable speed power drill and mixing paddle
Clean, empty 5-gallon pail
Hopper gun – if desired look is "knockdown texture"
Air compressor
Spiked shoes
Rounded edge steel trowel
Product Preparation
Resurfacer/Color Packs can be applied on clean, porous, sound concrete or masonry surfaces. Repair all cracks and remove all unsound concrete, grease, oil, paint, dirt and any other foreign materials that will inhibit performance. A combination of acid wash, de-greasing, high-pressure water blast, sand blast, shot blast, etc. may be required.
It is recommended that a test patch be performed whereby the product is applied to the substrate and examined for several days to confirm adequate surface preparation and a good bond.
Product Application
Place the Color Pack powder in the water/modifier to be added to the dry bag mix (Resurfacers). Spin the Color Pack to disperse it evenly in the liquid. Begin introducing the Resurfacer dry bag mix to the mixing vessel. One 50 pound bag will cover approximately 150 square feet in a splatter or knockdown finish. If a full overlay is desired, pour the mixture onto the surface and trowel on as desired, coverage will be about 50 – 100 square feet if doing a skim coat.
The working time (or "pot life") of the mixture will vary depending on the temperature and humidity outside – but typically is about 30-45 minutes. To extend the working time by a few minutes, you can add a small amount of additional COLD water to the mixture.